The Tonics Home Page on the WWW
This site is best viewed in Netscape Navigator or a similar browser. A 56k modem or faster connection is highly recommended.

Contents
Who are we?
The Tonics are an indie rock band that formed in Los Angeles in 2001. Their debut album, Get Things Done, is a fascinating combination of their wide-racing influences from 90s rock to doo-wop. They have played in Hollywood, Berkeley and Long Beach, and are currently looking to sign with a record label to help re-record, distribute and promote Get Things Done.
Musicians
Alek Zarifian, drums
Andy California, guitar
Ian Asbjornsen, drums, synthesizer
Mark Williams, vocals, guitar
Steven Chow, vocals, bass guitar, keyboard
Staff
Neon Phosphor, manager and publicist
Mrs. Lothar, navigator

For all inquiries, please contact neonphosphor at gmail.
Links
Purchase our music
Get Things Done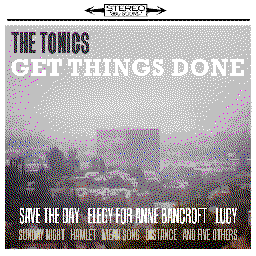 Our album is available for sale on our Bandcamp page.
Free downloads!
Bonus tracks and remixes
Album artwork
Lyrics
Sunday Night
Well it's me whom I wake up next to in the middle of the night
When those fever dreams preach to me
About what's wrong with my life
And when you drink too much on Sunday night
Well Monday's such a fight
But it's the only way to stop those thoughts that cut like knives
Sunday night
Well my words twirl just like debutantes and my friends are there at the ball
And all the possibilities do get flaunted and some fly but not all
But it doesn't matter when Sunday is drunk
'Cause I'm no lie till after Monday's sunk
And I can back away, you know, playing the fool
Just with both my empty hands drawn

It's a catch up race of headaches
I know these weekends keep
giving me the shakes
Staring at your bathroom mirror
Mouthing sure things you'll
probably never hear
Sunday night's rough when
you drink too much
I know it with a tired sigh
But it seems to me, I guess
it's the only way
To get to see Monday's light
Sunday night
Sunday night
Mean Song
It's not everyday you get to be pretty
So you better get out of here in a hurry
With a little good looks and a little bit of money
You know the good times will come flowing like honey
So you better get out of here
What about those of us you leave behind?
You know we're turning round that "Open" sign
'Cause we never did anything anyway
Maybe that's why we never had a thing to say
So you better get out of here
Distance
Who should know better than me what I should do?
Baby, I thought that was you
I guess I'll just smoke cigarettes
And maybe come out in a dress
Shake the blues
Just shake my blues
Just shake my blues
I read the books you gave me
And heard the music you played me
But now they're just spilled bottles
I guess I'm just a prude
'Cause when you're rich and young
Shouldn't you be having fun?
Just shake the blues
Shake the blues
Shake the blues
It's hard to be sad
It's hard to be sad
It's hard to be sad
Save The Day
I'd say sometimes
I feel turned off and down
All the things I've had
Well, have had me
This constant swagger
Of time and haughty days
Doesn't hold back
And doesn't crush because
You are my love
I missed the bus
I missed so much
Did I hit the books
Or just ignore the looks?
The burning back of my mind
Could turn the tides of oceans
Hare Krishna, Sandinista
You are my love
And the books have helped, have helped
And the music have helped, have helped
And you, you seem to save the day
You seem to save the day
You are my love
Get Things Done
Starlight breaks in my summer's eye
Oh God I am so high tonight
The conversations simmering as the day is dimming
There's so much left to do that I
I just can't seem to get things done
Well, maybe I'm just spun
But who the hell knows with me?
I just seem to get things wrong
I come off too strong
But it's on my mind all the time
In our self-constructed dreamery
With ham-fisted poetry
We have so much fun
'Cause we'd rather recreate the past
Than stew in the present's vat
I ain't that kind of man
I just can't seem to get things done
Well, maybe I'm just spun
But who the hell knows with me?
I just seem to get things wrong
I hang on too long
But it's on my mind all the time
Lucy
Lucy we knew we couldn't have walked out alive oh
Lucy from the beginning we walked on the fire
Oh Lucy Lucy Lucy Lucy
Little by little the rain disappears
Out of the shelter emerge without fear
One tiny moment the radiance is near
Without you the walls start breaking
The house it will crash down burning
How can they find us and say yes again?
Can we still be together like stones and the water?
And can we just fall apart like we're dust to each other?
Oh Lucy Lucy Lucy Lucy
The rising moon flown in out of the blue
The sinking sun face the smile of the moon
One tiny moment that seems to hold true
Without you the windows blocking
The house that goes beatless and starving
Inside they will find us and say yes again
Lucy you know that we could have
walked out together
Oh Lucy if we had never by
chance heard each other
Oh Lucy Lucy Lucy Lucy
Lucy Tricked Me Into Something
I was only looking for nothing
Till you came along with your predetermined mission
I was only hoping to see life
Till you came along with your self-indulgent vision
How many kids have you tricked lately?
How many kids have you tricked?
You're so very nice
I was reading my imagination
When you came along with your plotting to exploit it
You decreed that I was really something
'Cause alas I was a puppet of your fiction
How many kids have you killed lately?
How many kids have you tricked?
You're so very nice
Hamlet
The cruelest thing is to let a child into this world so cruel
The cruelest thing is to die and let your answerless question continue
Is one of me not enough?
I am one too much
The greatest thing is to die and know that at least one wasted life ended
The greatest thing is for us as human to accept this strife ended
Is one of you not enough?
You are one too much.
The cruelest thing is to let more people read themselves into Hamlet
The cruelest thing is to drown more people them entangled in Eliot
Is one of we not enough?
We are one too much
Greenback
When we were together all I wanted to be
Was a father just like every one before me
And now never wanting anything is just as easy for me
Blank white page with a green back
I'm a blank white page with a green back
Green back
Stranger now because my only mystery
That anybody could ever feel in me
I know it's actually nothing but creative self-hatred
Blank white page with a green back
I'm a blank white page with a green back
Green back
So let me get silly sad and vomit sick again
And say stupid shit like I'm a jingle I'm so useless
But it'd half true 'cause we both expect money
And I seem to be pretty flat and easy
Blank white page with a green back
I'm a blank white page with a green back
Green back
Love Makes People Stupid
You came into my life when
I was not ready to be broken yet
Seemed to much for me and
I'd go back where we were before we met
The ageless agent of this
Fancied construction and I'm gonna bet
Love makes people stupid
If only that I knew before we fell
The rite of spring and all the silly things
Diamond rings and all those silly things
The way you handed me the
Smoking remains of your last cigarette
Oh I'm burning bridges
And counting all the ways that we'll forget
Elegy For Anne Bancroft
Who is that standing round?
Who is that giving sense?
To a blind and deaf and angry lonely girl wondering
Ooh what is love? You washed her hands
And saw her lips remain untouched
Love is two in one
Goodbye, Annie Sullivan
Who was that standing round
While he was growing up
And who seduced a world that's looking for a passion?
Swept down those icy clouds above
Showed us the way to stay corrupt,
Like a loaded gun
Goodbye Mrs. Robinson
These are the things you've given us
Red visions of that sensual trust
You made us dangerous
Goodbye from your graduate.
Thank You
When we stood in the cold
And talked in the park
Till the stars froze above
With bated breath
It was everything I needed
I was so tired I couldn't see
And your voice went soft
Like a velvet dream
I knew you knew
It was everything I needed
Thank you...
When I was lying in a sick little ball
And you hardly knew my last name
You said, oh you're a person
It was everything I needed
Thank you...
Extended biography
Introduction
Much has been written about The Tonics, and most of it came from this site. Since their formation in 2001 (as Sculpted Static), this indie rock band from South Pasadena have produced three albums, two EPs, countless bone-chillingly good melodies, and lyrics to go along with it. They have been featured in radio shows such as KALX 90.7 FM's "The Next Big Thing," and they have inspired the likes of Californian artist Jimi Martinez and Oscar-hopeful Alan Lawrence from the Idiot Cult filmmaking collective.
Such is their consummate genius that their songwriting is literally ahead of its time - many times they would commence the recording long before the song is actually fully written, and often before even the lyrics and melodies are written. How they do it, I have no fucking clue. But I was lucky enough to sit in on a recording session and witness this magic before my very eyes (and ears):
Mark: Hey, I wrote a song last night.
Steven: Play it.
[Mark plays the song while slurring the half-completed lyrics.]
Mark: We better record it now, because I have to leave in two days and I need to start packing tomorrow.
Andy: Come on, is it really going to take all day to pack?
Mark: Well, you know my day doesn't begin until 3 in the afternoon.
Andy: Steven and I have this idea that you stay up all night worshipping Satan. Either that or coding.
Mark: No. I read.
Steven: Here's the metronome track. Is this the right tempo? Faster? Slower?
Mark: It sounds about right.
Andy: Mark, you need to come up with some real lyrics.
Mark: Oh, do I have to?
Steven: I'll record the piano track while you think up the lyrics. You can sing over it because it won't pick up on the recording.
There you have it. Three conquering geniuses working towards their newest hit single. Where's the fourth member of The Tonics, you ask? That's Ian Asbjornsen, who is infamous for recording in complete solitude.
Steven: Mark's gone back to school. Here's a CD containing our new song for you drum over. I hope the metronome is loud enough.
Ian: Oh, okay. I'll get right to work on it. Is there anything specific you want to me to do on it?
Steven: No, play whatever you want.
Ian: Okay, I'll figure something out.
Sculpted Static (2001 to 2004)
Actually, they don't really want to make a career out of music. To begin with, they're not really musicians. They're more like dog breeders. "We like to mix and match our favorite bands," said Steven. "That's what we did on [the song] 'Nothing.' Morrissey meets Nirvana with a bit of the Pixies. Now we think it sounds more like Sonic Youth."
Sculpted Static (as they were known from 2001 to 2004) actually started out by combining Joseph Conrad's imitation of Henry James with The Who's imitation of The Pretty Things. The resulting explosion was the agonizingly long rock operetta called "Heart of Darkness: The Rock Opera." Undaunted by their inability to produce radio-friendly music, the creative duo, trio and quartet went on to produce "Einsamkeit," a fusion of the rock and rap genres, and "The Lorax," which contains a glorious six-minute exposition of Andy's soloing skills.
Mark Williams auditioned for the role of guitarist by playing a metal solo about 32 times faster than Andy could at the time. Quoth the bearded fellow, "When I heard Andy's incredible rendition of the B minor and E minor chords [on 'Human Adventure'], I knew I had to join the band."
He added, "One day, I too will write a song with only Bm and Em."
The day came a few weeks later, when the trio recorded their first good song, "Lost Child." Amazingly, it's still available on soundclick.com, averaging about five plays per annum, mostly by Andy. The band felt the pressure to perform and pulled a few more tricks out of their sleeves. "Yeah, [Lost Child] was great, but it was time to write a song about drugs," said Steven, the studio engineer.
"Rock is dead," said Andy California. "You killed it."
So, the band turned to aliens for help. Their next song was called "UFO" and it became an instant hit on Andy's friends' playlists. But, at 6:21, the song was too long to be played on the radio. It was time for a change.
Andy and Steven came back from college and the reunified quartet played a concert to their friends. The lucky 15 people who came will forever remember it as the turning point in the band's career. Roger, who was so impressed that he started playing them on his college radio station, said of that concert, "I didn't go to that one."
On May something, 2002, Sculpted Static polluted the Bay Area airwaves through KALX 90.7 of Berkeley. Steven denies bribing the DJs for the undeserved honor.
The following month, the band was revitalized with the addition of the drummer, Ian Asbjornsen. To celebrate the news, they produced their first album, Sound Check, with no contribution from Ian. Seriously, though, Sound Check represented their best material at the time. The original photos on the album cover and the back of the CD case were first-rate.
Immediately after the release of Sound Check, the band got serious. Steven said, "I don't know what happened to us. I mean, holy shit. One minute we were writing about convenient stores, and the next minute, we wrote 'Neanderthal,' which had a lot of chords and was about the end of humanity."
"Beginning of humanity? Whatever."
That fall, Mark wrote a song called "Apart," and the full band recorded it despite being a few thousand miles away from each other. "That's definitely a breakthrough. Having real drums and real harmonies on that record is just mind-blowing. It's almost blasphemy. What happened to our old Sculpted Static 'sound' of synthesized drums? Fortunately, we still have fake bass."
Unfortunately for Steven the keyboardist, the synthesized bass was soon forced out of commission when Steven the bassist acquired his Dean bass guitar from Musician's Friend.
After a disastrous winter break, which saw the failed recording attempt of the song "Radio" and an over-ambitious and mistake-ridden concert inside Steven's garage, Sculpted Static bounced back like a zombie in 2003. In July, they played their first public gig at the No Future Cafe. The following month, Sculpted Static released their breakthrough album, Sunny Ash, a fascinating compilation that covers many subgenres of alternative rock. Momentum was definitely on their side. Could they overcome their rock-and-roll laziness and their commitment to their academic careers to become the next indie-rock stars?
That's where the biography used to end. And the answer to that last question proved to be a resounding no.
Sculpted Static stagnated for a whole year, proceeding through a winter break without playing a concert. In 2004, Steven and Mark focused on their side projects and Andy focused on his senior thesis. A burnt out band, now a mere shadow of its old self, produced the stillborn "Cube" and "No Logo," and the lavishly overproduced "Opium." They also came under the influence of their new god, a large cube-shaped building in Alhambra, California.
The Tonics (2004 to 2006)
On December 22, 2004, the three founding members of Sculpted Static voted to dissolve the union, and immediately founded a new project called The Tonics. Ian Asbjornsen was recruited, once again, to be the drummer. The revitalized group embarked on an ambitious recording schedule, just as the Titanic had embarked on an ambitious ocean crossing nearly a century before.
In February 2005, they decided to release an EP of what they'd finished so far. Scandalously, two of the tracks were ripped off old Sculpted Static recordings, and two were reworked versions of Sunny Ash songs. Only "Lucy Tricked Me Into Something" was a new song, although the title certainly invites a sarcastic corruption into "The Tonics tricked me into paying $8 for something that I'd heard before."
But the thing that really sets The Tonics apart (pardon the pun) is their impressive ability to survive despite performing no promotional activities and losing money from each release.
"It's embarrassing. We hardly ever play. Let's just quit while we're ahead," said Andy, who woke up on the wrong side of his bed this morning.
"I try not to tell anyone that I'm in a band," said Steven. "We don't have that many copies of Pop Go The Tonics to go around, anyway, and I hate building new copies of the CD-R."
"I'm in a band?" mused Mark. "It's probably not as good as the Velvet Underground, then. You know, it's all about Lou Reed. God, where have you been?"
Cruel, or a bit odd? But that's The Tonics for you. Remember, they want you to believe that they're not even a band. But whatever they are, wherever they are, one thing's for sure: they make music.
The Tonics (2006, 2009-2010)
That's where the biography used to end. Late 2005, the band uncharacteriscally tasted stardom by playing at the Lava Lounge in Hollywood and the Blue Cafe in Long Beach. During this tour, Ian was busy working on a highly disturbing student film, so the band recruited Alek, who had been waiting several decades for an opportunity to join the Tonics.
Shortly afterwards, the Tonics disbanded when Steven announced that he was retiring from music to earn a Master's degree and become a Certified Public Accountant. "My name's not long enough," said Steven. "I want to add several more letters to it."
Not to be outdone, both Andy and Mark went to graduate school, too. And with Andy back on the east coast, Mark in LA, Steven in the Bay Area, Ian missing in action, and Alek designing buildings, the Tonics rediscovered the long-distance relationship that had served them so well during the peak of their career.
But it took one special spark to bring the Tonics out of the ashes and back into the studio again. And that spark was "**** Me Up" by Passing Stones.
"No exaggeration," tweeted Andy. "This is the funniest video I've ever seen on YouTube."
"Hey whazzup, make up?" asked Mark.
"Whazzup big ape, ein Waffelscham!" replied Andy.
"Frustration/B.O./ void," added Steven. "I guess it's time to go the PRS again."
They did, and Steven had to go back to the Bay Area the day after. Just like in the old days.
The Tonics (2010-present)
After that, I didn't think I would ever have to update the web site again. But like Rasputin, the band simply refused to die. In 2010, the band decided to become the "21st century version of Spinal Tap," and held open auditions for their third drummer. At Andy's suggestion, the band forced all applicants to play through a cover of "Let's Stay Together" at 200 beats per minute. Predictably, the band failed to stay together with any of the aspiring Tonics.

Page updated: May 16, 2013